SIT20421 – Certificate II in Cookery
This qualification provides a pathway to work as a kitchen hand in organisations such as restaurants, hotels, motels, clubs, pubs, cafés, and coffee shops.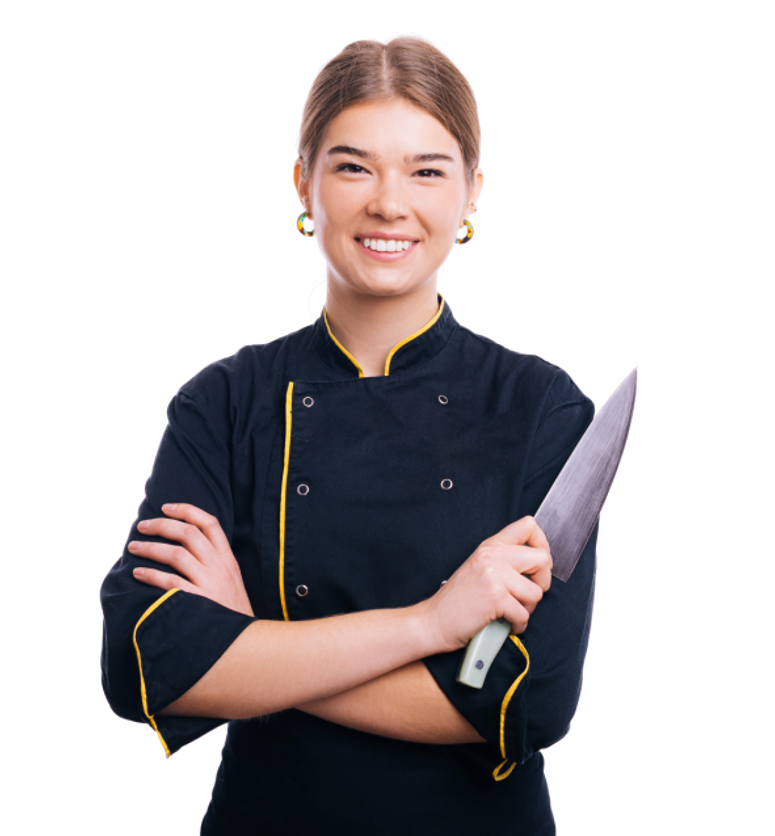 This qualification allows for multiskilling and for specialisation in accommodation services, food and beverage, aviation [Cabin Crew], casino and gaming.
This qualification is to provide current and potential hospitality employees the opportunity to develop their skills and knowledge in Cookery or to have their current skills, knowledge and experience formally recognised.
It is expected that students completing this course will be equipped with the knowledge and skills to work as a kitchen hand or in food preparation in organisations such as restaurants, hotels, clubs, pubs, cafés, and coffee shops.
Job roles and titles vary across different industry sectors. Possible job titles relevant to this qualification include:
Kitchen Hands or attendants
Pass Controllers
Food Runners
While there are no entry requirements for this course, your language, literacy and numeracy skills will be assessed to enable us to gauge any additional support requirements. To enrol in this qualification students must be 18 years or over.
Students must also be permanent residents in Western Australia – and will be required to provide proof of residency. Individuals who are on visas will be required to provide visa information, so that course eligibility can be verified.
*Students must be able to demonstrate a level of language, literacy and numeracy skills to be able to read and interpret workplace documents, legislation and regulations, hold discussions with all stakeholder groups, work in teams and gather and provide information in both written and oral forms.
Competencies
There are 13 units included in this program comprising seven (7) compulsory (core) and six (6) elective units, which can be selected from a wide range of business and related units. A sample course structure would be as follows:
Core (Compulsory):
SITHCCC023 Use food preparation equipment
SITHCCC027 Prepare dishes using basic methods of cookery
SITHCCC034 Work effectively in a commercial kitchen
SITHKOP009 Clean kitchen premises and equipment
SITXFSA005 Use hygienic practices for food safety
SITXINV006 Receive, store and maintain stock
SITXWHS005 Participate in safe work practices
Electives
SITXFSA006 Participate in safe food handling practices
SITHCCC028 Prepare appetisers and salads
SITHCCC029 Prepare stocks, sauces and soups
SITHCCC030 Prepare vegetable, fruit, egg and farinaceous dishes
SITXCOM007 Show social and cultural sensitivity
SITHCCC024 Prepare and present simple dishes
Course Fees
The qualification is $4,000.00
Payment options are available*
No deposit required
Please contact us for further information and to access our Fees, Charges and Refunds Policy.
*Streamline Training will never require students to pre-pay fees in excess of a total of $1500.
All assessments are competency based. You will be assessed against each unit of competency as well as the full qualification.
The type of assessment tasks may include:
Practical demonstration
Knowledge activities
Case studies or reports
On-the-job assessment
Oral questioning
Direct observation
Recognition of Prior Learning
The process of Recognition of Prior Learning and/or Recognition of Current Competencies gives those people with the relevant experience the opportunity to gain formal recognition for their competencies (skills and knowledge) gained through life, work and study, regardless of where, when and how they were achieved.
Students are responsible for gathering evidence that show they have the required competencies to the standard set out by the industry in the National Competency Standards. Please refer to our RPL policy by contacting info@streamlinetraining.com.au
Course Duration
We recommend you complete this course within 12 Months
Learning Arrangements
The qualification is delivered through a combination of classroom, digital and practical workplace based delivery and learning.
You will be visited by our Trainer/Assessor at our practical training facility, on a monthly basis to progress your learning and complete assessment observations with you. Your trainer/assessor will also provide you support over the phone, email or face-to-face as required.
During the enrolment process, students will go through their training and assessment arrangements in detail, including what units are most suitable to your needs and what support strategies will help you complete your qualification.
Please contact us for details regarding where your training will be provided.
If you have any questions regarding the course, or would like to enrol, please contact our us or enrol via the link provided here.
There are currently no available openings for this course.